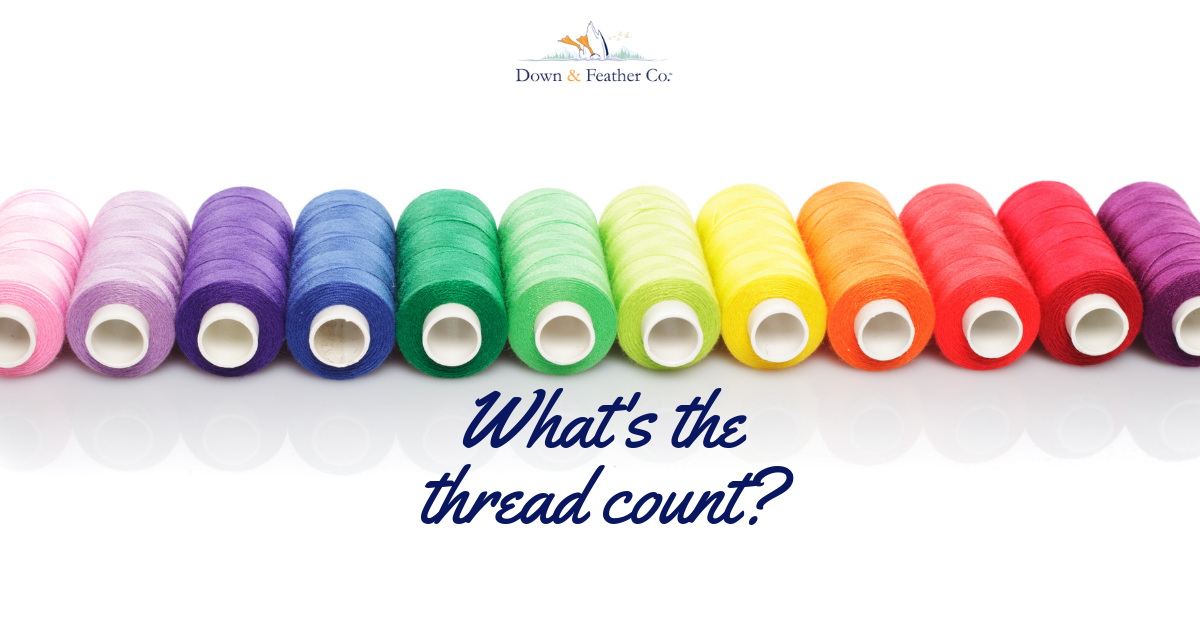 Thread count: Higher doesn't mean better
by David Smith
A higher thread count doesn't mean it's a higher quality pillow. Thread count is the number of horizontal and vertical threads per square inch.

David Smith, our bedding expert, takes us through what a higher thread count fabric on a down pillow shell really does to the overall feel and compression of the pillow.
For all those people out there that say, "Hey, I wanna know what the thread count is for these pillows," you have to understand the implications of that information not jiving with what you'd normally expect. A higher thread count doesn't mean it's going to be better, and it changes the way that the pillow is going to sleep.
Exposing what the thread count of the fabric is on the shells for the pillows is tricky. As soon as we start increasing the thread counts of the pillow shells, we change the personality of the pillow. 
If we go to a 600 or 700 thread count for our pillow shells, it would significantly change the way that pillow responds to compression. We refer to that as the ballooning effect. 
The pillow would have less compressionability, and it would have more resilience, relative to how it felt. 
And it would feel more like a balloon. 
And that's exactly NOT the way that I want that product to feel. It's an important part of the design process to make sure that the pillow feels, and has a certain unique personality that allows for compression, and allows for the materials that are inside of that shell  to be able to move around, as well as for your head to compress the pillow, so that it actually cradles your head. 
The story is a bit different for the feather pillows. Those thread counts are a little bit lower, but I'm also doing something very different with those shells. They have a very unique feel, and there's something different to manage inside of a feather pillow with those quills that can poke through and can obviously become an issue. 
So, that's something that I manage very specifically inside of the classics, and that's something that we, technically, don't manage, intentionally, inside of the original feather pillow.