FREE Shipping: Minimum Order $150.
Perfect Pillow Policy: FREE pillow Adjustment for 1 Year
Classic 75|25 Down Feather Beds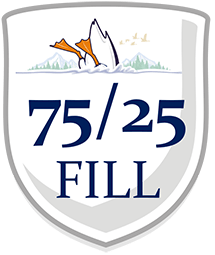 75% Hungarian goose feather and 25% Hungarian goose down washed using recycled water and environmentally friendly soap. Guaranteed hypoallergenic.
Product Description
Can you Imagine what it must be like to sleep on our California King size Classic Down Feather Bed? This side view shows the tremendous loft available using this classic channel design. Our Classic Down Feather Bed is a traditional three (3) channel design allowing the feathers and the down to reach their maximum loft. Wake up in the morning refreshed after a long night of quality rest. This Feather Bed enjoys being fluffed after every changing of the sheets allowing you to enjoy its tremendous luxury and loft for years to come.