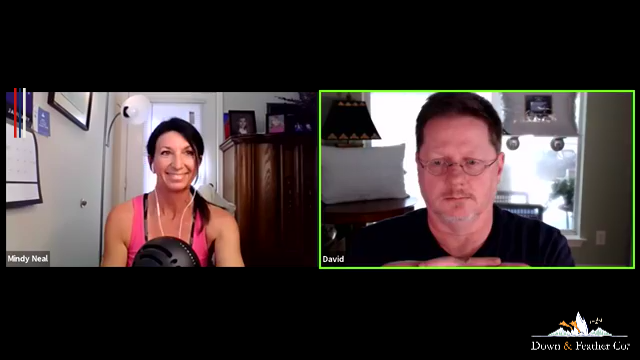 How to fluff a flat feather pillow
by David Smith
We're getting a lot of questions about feather pillows being flat. And why that happens and what we can do to fix that. So you want to learn how to unflatten them and fluff them?
Take a gander (see what we did there?) at this episode of Pillow Talk on Facebook Live Friday to learn why feather pillows go flat and how to be your own fluffer and fluff them correctly.
First why do feather pillows go flat?
This has been something that we've learned over the years as a function of just working with the materials literally with our hands all the time and then kind of, you know - We all know what a feather looks like, right? 
A feather looks like a feather. It's got a spine with filaments that radiate from that spine. It looks like a feather. Perhaps you don't realize that feathers aren't flat. They actually have a little bit of curvature to them. It's very slight. There's not a lot of curvature to them. If you look at them from the side, they kind of, they kind of actually kind of curve up a little bit. They have a little bit of an ellipse to them.
What I love is that that is a real penny. And then these don't look like feathers that I see out in the world.


We use a very specific type of feather - Hungarian White Goose. Feathers, which come in varying different sizes, and we choose a very, very small feather. We choose a 2- to 4-centimeter feather. These are the largest feathers you would see in any of our feather pillows. And those are some of the smaller feathers that are in it. 
When you're sleeping, these feathers have a tendency to do something very unique inside of a pillow shell. Over time, inside of a pillow shell, these feathers actually start to spoon each other. They nest like that with each other inside the pillow. And that happens as a function of you putting your head on it, sleeping and compression cycles.
It's getting compressed and then releasing. That's kind of like the pillow taking a breath. But you compress the pillow and then you put your head up. And over time, this happens to the pillow. It's not merely over a couple of weekends. It takes years and years and years of use.

Once they start to align themselves with each other, and they kind of spoon themselves. There's really a trick that 99 times out of 100 works. But I thought I would show you this little trick actually.

What you do is you play the pillow like an accordion. That will agitate the feathers from being flat. It'll end up being much fluffier. Again, agitate them, and they will fluff back up.

That seems really easy. Now you know how to fluff up a flattened feather pillow.
Ready to feel with a luxury Original Feather Pillow feels like - Shop today.
If you need help selecting the right pillow for you, take the pillow personality quiz, and find out if you need a down or a feather pillow.