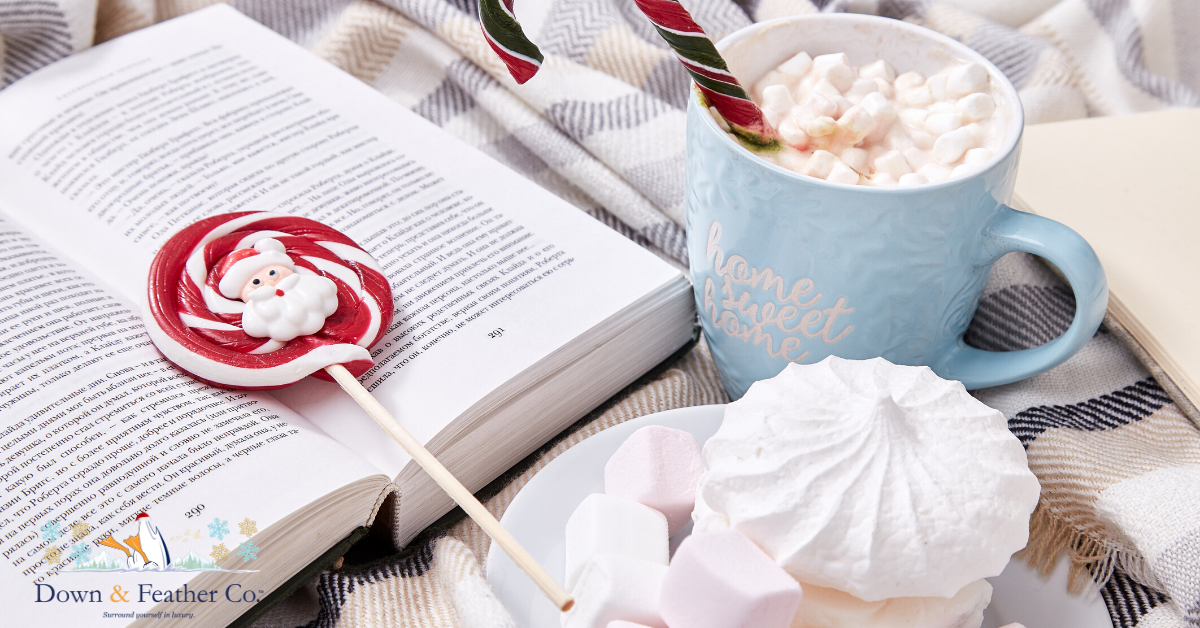 Creating New Holiday Traditions with Sleep at the Top of the List
Happy Friday the 13th 😬 Thankfully it's also National Cocoa Day! #nationalcocoaday 
Warm & cozy, rich and delicious, like a hug in a cup 🤗 and like snuggling in one of our comforters. Our cocoa is spiked with coffee ☕. 
What do you put in your cocoa? 
It's also 12 days until Christmas.
Here are some holiday traditions that you can start this year: 𝐑𝐞𝐦𝐞𝐦𝐛𝐞𝐫 𝐭𝐨 𝐩𝐮𝐭 𝐒𝐋𝐄𝐄𝐏 & 𝐬𝐞𝐥𝐟-𝐜𝐚𝐫𝐞 𝐚𝐭 𝐭𝐡𝐞 𝐭𝐨𝐩 𝐨𝐟 𝐲𝐨𝐮𝐫 𝐥𝐢𝐬𝐭 😴🛌💤
1) Start a Christmas ornament collection. 
2) Pay it forward. 
3) Volunteer.
4) Donate things you don't use anymore.
5) Bake your favorite cookies with friends. 
6) Deliver cookies to neighbors.
7) Unplug everything but the lights. 
8) Go caroling 
9) Create a holiday card. 
10) Celebrate with special pajamas.
11) Celebrate with special socks.
12) Put together a holiday movie list.
13) Go to the movies.
What are some of your favorite holiday traditions? 
Going back to sleep then, literally and figuratively, how can you actually put SLEEP at the top of your list? 
1) Make sleep a priority and not something that just happens. 
2) Create a sanctuary dedicated to sleep. 
3) Develop rituals that settle you into sleep. 
We can help with the sanctuary - Comfort while you sleep is so important. Take the quiz to find out which pillow is best suited for you, so that you're the most comfortable during sleep. 
From there, our selection of pillows are designed for sleeping better. Down pillows are ideal if you like to sink into your pillow. Feather pillows are ideal if you like to rest your head upon your pillow.
Regardless of your sleep style, we want you to get the best night's sleep.