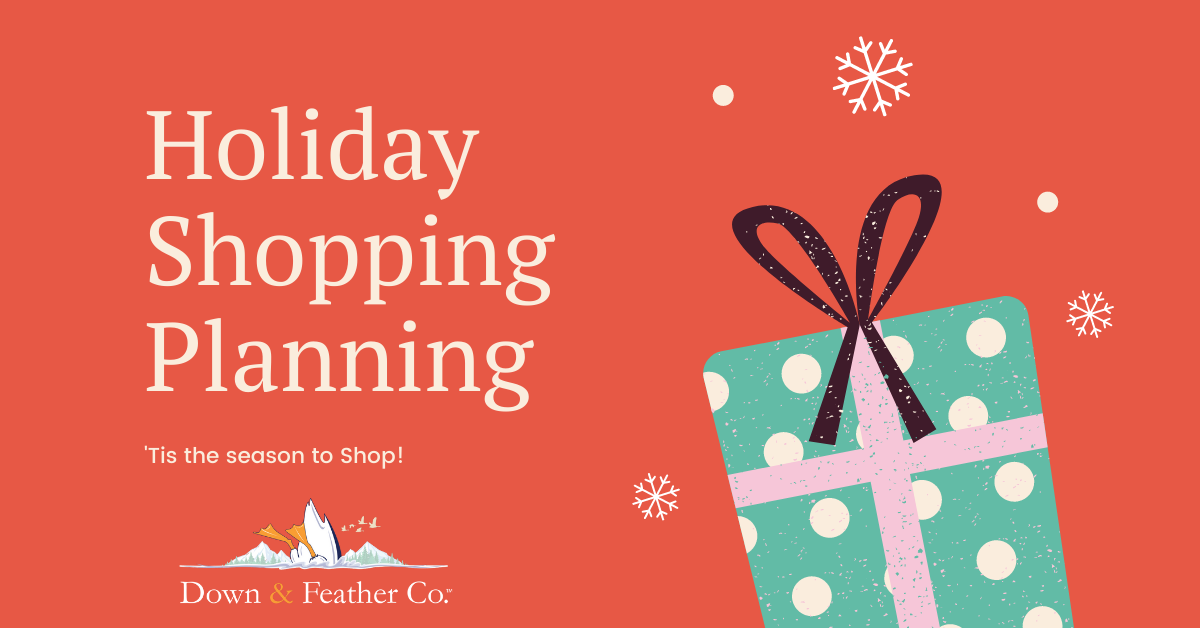 Planning the 2021 Holiday Shopping at Down & Feather
By David Smith
Holiday shopping is upon is. Here are your handy guidelines for making your bedding shopping experience at Down & Feather Co., and everywhere you shop online, enjoyable with little fuss.
1) Important Dates
Thanksgiving (USA): Thursday, November 25th

Black Friday: Friday, November 26th

Cyber Monday: Monday, November 29th

LAST DAY TO SHIP (and be reasonably confident it will arrive by Christmas) DECEMBER 8TH!

*NOTE: That's about a week earlier than normal, so pay attention to that.

Hanukkah: November 28-December 6

Christmas Eve: December 24

Christmas Day: December 25

Kwanzaa: December 26-January 1

New Year's Eve: December 31

New Year's Day: January 1
2) Promo codes
We offer promo codes for Black Friday, Cyber Monday, and through the New Year. For Black Friday, sometimes we open it early to our email list. If you're not on that list, and shopping for a new down pillow for Black Friday is your dream, then you might want to get on this list. Spin the Wheel is the best from the home page. You can also take the pillow quiz and be prepared knowing which pillow is right for you.
3) The Grinch is in charge of shipping (and delays)
He really isn't, but shipping is already very delayed, and with everyone shopping online, it's going to be even more so. Plan accordingly, realizing that not only may there be a delay, there absolutely will be a delay. That's not on our production end. Once it leaves our hands, we have to put our trust in FedEx to do the job.
4) Make a list and check it twice.
Start your online window shopping now and make a list of the things you'd like to get for others (and for yourself). Note production times as well as shipping times. A spreadsheet works great because you can start adding promo codes to your sheet and have everything in one spot.
You can take it as you or as someone you'd like to buy for, to ensure that you get a pillow that is the most comfortable for that special someone.